About Kerbcraft
Accident levels involving young children in the Drumchapel area of Glasgow had been very high, Professor James Thomson at the University of Strathclyde designed Kerbcraft as an intervention to teach road safety skills to 5 to 7 year olds by means of practical road-side training rather than teaching in the classroom.
Kerbcraft is a practical road safety programme focussing on child pedestrian training. It teaches three essential skills road safety skills.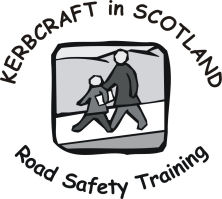 These three skills are
finding a safe place to cross
crossing between parked cars
crossing at junctions.
Schools tackle one skill per term and this runs over four weeks. It is an active learning experience that takes place at the roadside. Children go out with volunteer trainers in groups of two or three for around fifteen minutes each week and look at the problems they might encounter whilst trying to cross the road. The programme is designed to get children thinking about possible hazards on the road and the types of situations they might come across.
Find out more information on the Kerbcraft website.