Running the project in your school
Recent health surveys have shown that children's physical activity levels are a cause for concern. National transport studies have also shown that fewer children are walking or cycling and there has been a marked increase in pupils being driven to school.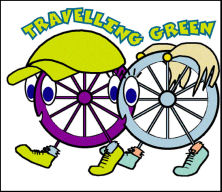 Travelling Green is aimed at primary 5 children, encouraging a change in this lifestyle and to choose to walk all, or part of the way, both to and from school and the many other places we visit.
Children learn about health and fitness and map their journey to school as well as taking part in classroom activities all of which have direct links to a curriculum for excellence. Weekly targets are set and progress monitored by the children themselves.
Sustrans has developed new, free, eye-catching interactive whiteboard flipcharts that can be used with any interactive whiteboard. You can download the interactive resources from the Promethean Planet partnership.
We have produced a useful guide (pdf) to downloading the interactive resources from Promethean Planet.
About Travelling Green
Travelling Green was designed in partnership with Greater Glasgow and Clyde NHS. West Dunbartonshire won the Scottish National Transport Award 2003 for road safety for this project.
Travelling Green has been recognised as an example of good practice and the Scottish Government has provided funding to make the project available to all primary schools throughout Scotland.
Please note that the resource is now only available from Promethean planet.