Cycle training in primary schools
Bikability Scotland
Cycling Scotland is responsible for children's cycle training, formerly known as cycling proficiency. There are 3 levels of bikeability training for children, delivered to children in primary 5, 6 and 7, in line with the national UK standard for cycle training.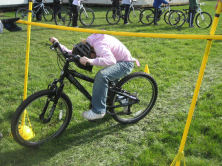 Cycling Scotland also provides instructor training and resources to facilitate training nationwide. Have a look at the Bikeability Scotland pages on Cycling Scotland's website for more information. There is also a dedicated Bikeability page too with more information for parents and some useful contacts.
Active schools co-ordinators deliver cycle training in primary schools in Edinburgh. Pleas contact Streets Ahead for more information.