New approach to early level road safety
The approach probably looks very different from any other road safety resource you may have seen - or what you might expect.
The main aim is to engage and inspire young children and the adults around them to go on their own road safety learning journey.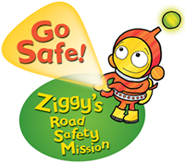 Did you know, before a child is around 8 years of age they are simply not able to be completely safe independent road users? Research demonstrates that, even though many young children know and can say that they should STOP, LOOK and LISTEN when crossing a road, what they know and what they do can be two entirely different things.
Instead of focusing solely on gaining knowledge and understanding, road safety education for young children must aim to develop positive attitudes and behaviours. If the adults around small children set a good example, the children will have been given the best possible start in their lifelong learning about road safety.