About Park Smart
There are 1 in 5 cars on the road at 8.50am on the school run. As a result some Edinburgh schools have a massive traffic problem as parents drop their children as close to the gates as they possibly can, breaching parking regulations in the process. This poses a danger not just to their own children but to other pedestrians as well.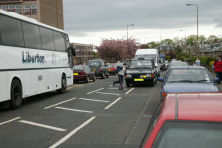 Cars are frequently parked on the yellow zig-zags or else double parked, and sometimes even on pavements. This causes obstructions and makes it impossible to cross the road safely. Visibility is greatly reduced, making it really dangerous for other pedestrians. There have been several incidents outside schools which is why we have put this project together to raise awareness of the road safety hazards.
The purpose of Park Smart is to get parents to think about their behaviour whilst actively promoting walking to school or park and stride as the easier, safer and most stress free option.
Park Smart is a 3 week project of awareness raising and enforcement designed to make parents think about the dangers of bringing the car to school.
Download a project plan with all you need to run the campaign.
Week one
Awareness raising in school, with assemblies and the JRSO team taking the banner around the classes and letting other pupils know about the campaign
There are Hands Up surveys and Traffic counts outside school to find out how people travel to school and to see how bad the problem is.
Competitions are launched in school and the project is brought to the attention of parents who are asked to sign the pledge not to drop off at the gates.
Week two
Display your Banner at the gates. You can choose to borrow a banner from the Road Safety Team. Just email and ask which slogans are available - we have a few in stock.
Consider having a 'Walk to School Breakfast' event to encourage more parents and pupils to walk to school.
The Road Safety Team will ask the Parking Attendants to visit the school to enforce parking on the zigzags
Invite a local police officer along to speak to any parents who are still parking at the gates.
Week three
Continue to display banner!
Have another Hands Up Survey - are more people walking/cycling or scooting to school?
Do another traffic count to compare with week one and we would expect the number of cars to decrease.
Publicise the changes on the website
Have a celebration Assembly to share your success.